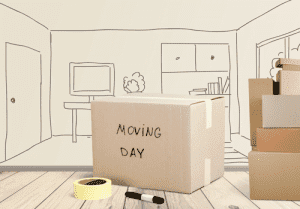 We have a lot of experience in packing homes. We know where things commonly can go wrong and we are experienced in spotting the details that make everything go without a hitch. We would be more than happy to quote for your removal, including a professional packing team and high quality materials. However, if you'd like to pack yourself, here are some packing tips.
Sturdy Boxes
1. Always use sturdy packing boxes. While it may seem easier to use borrowed boxes, or boxes you've picked up from a delivery or a shop, using inferior boxes almost always leads to problems.
2. MiniMoves Removals use double skin boxes which do not collapse under pressure i.e. with other removals boxes on top of them.
3. MiniMoves supply three sizes of box as well wardrobe boxes with hangers and we'll be happy to deliver these to you along with any other packing material you need prior to your removal.
China And Glass
1. China and glass items are always strongest standing up. Even plates are less vulnerable if standing on their side. Add a cushioning layer to the bottom of the box before adding the items. Wrap each item individually so that they do not come into contact with any other item/hard surface.
2. Try and keep the height of the items the same so that you can add a sturdy cardboard divider then add another layer thus saving space.
3. Make sure you add cushioning layers to the four sides and the top before closing the lid.
4. Tape the lid and mark the box immediately FRAGILE (MiniMoves Removals of Cheltenham can supply FRAGILE tape).
5. Write the details of the contents on the box too i.e. Kitchen / Glasses.
Loose Fragile Items
Ideally all fragile items such as lamp standards and shades should be boxed as they are difficult to protect and difficult to stack.
Personal Effects
Rather than emptying smaller cupboards such as bedside tables etc. you can wrap them in shrink-wrap which prevents the draws and doors opening as well as keeps the contents secure. Any other smaller personal items / valuable items such as passports, money, credit cards, cheque books etc. should be packed by you and looked after by you.
Books And Magazines
It is vital that when packing dense heavy items such as books, magazines, CD's etc you use smaller boxes so that they can be lifted easily by one person. We believe that it is easier to work like ants – carrying more lighter boxes rather than fewer heavier boxes.
Vacuum Packing
For soft, bulky items like duvets etc. MiniMoves Removals can supply you with vacuum packs which reduces the size of the items dramatically, thus saving space on the vehicle as well as providing excellent protection.
Timing, Don't leave packing until the last minute
Timing is everything. MiniMoves Removals recommends that you complete the packing of all non-essential items the day before the move. This gives you and your removal team plenty of time to load the vehicles. It is far better to arrive at your destination early than late.
Your removal teams should inspect all furniture items before they are packed and loaded. A professional removals company should always check all furniture with you and agree on the condition and any pre-existing damage. If your removals team do not, insist on it. Both the removals team and yourself should be fully aware of any issues before they move your furniture so that there are no disputes at the other end.
If you do discover any damage whilst un-packing, photograph it and tell your removal team immediately.
Tea, Coffee And Biscuits
Make sure you leave an essentials kit that doesn't get packed until the very last minute and are available immediately at your new property. Some items you might want to include are: