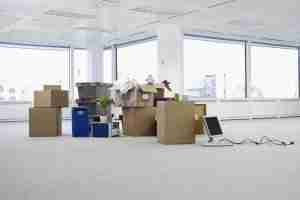 MiniMoves provide businesses with a comprehensive office relocation service in and around Cheltenham, Tewkesbury, Gloucester, Stroud, Bristol, Malvern and Cirencester.
Whether you are moving within the building, across town, or to any other location in the UK, MiniMoves can provide you with a perfectly planned, smoothly executed office move that guarantees to minimise disruption and downtime to your business.
Office Relocation Service
Office Relocation and Planning
As with our house moves service we are a firm advocate of the 6 'P' Rule – Perfect Planning and Preparation Prevents Poor Performance.
Our manager Liam Hagon is responsible for project managing office moves. Liam will liaise with key staff to agree an action plan and he will be the only point of contact ensuring everything goes smoothly.
Our Office relocation plans include the following:
Office Relocation at Evenings & Weekends

We know that downtime means money, and that's why we will work with you to plan your relocation at your convenience, then when we are ready to go, we'll schedule your move to cause the least possible disruption.
We will help to ensure that your office remains fully functional during the move period, and if the best way to do that is to carry out the move outside office hours, i.e. in the evenings and/or at the weekend, that's no problem for MiniMoves.
We want to do everything we can to relocate your business while causing the absolute minimum of disruption to productivity.
Office Relocation Project Management
Your office relocation specialist, Liam Hagon
Liam is highly experienced in the logistics of business moves, they will carry out detailed surveys and planning sessions with you, liaising with key people within your business.
Liam will be your constant point of contact, actively managing your business relocation from start to finish. He will maintain contact with all key staff before, during and after the move. They will team-lead the office relocation – overseeing anything that may need special attention / treatment.
Experienced Office Relocation Team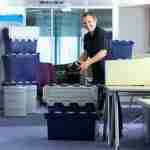 Each office or business relocation is managed by Liam Hagon owner/manager of MiniMoves. MiniMoves are experienced office relocation specialists.
Liam will lead a switched-on, diligent and very customer-focused team whose resourcefulness and can-do attitude will get the job done on-brief, on-time and within budget.
The MiniMoves team is motivated by good management, excellent training, above average wages, a strong team ethos and our goal of maintaining high standards of service and customer care.
To minimise disruption to productivity the MiniMoves office relocation team can dismantle and pack non-essential items first leaving essential items to the last minute to maintain productivity.
All items are packed and clearly labelled and a detailed inventory can be kept if required.
When dismantling items of furniture and equipment we'll label parts in accordance to how they'll need to be assembled making it easy to re-assemble them in the new location.
All fragile, valuable items such as computers are packed and transported in accordance with industry best-practice which we can discuss in detail with you prior to the move.
We will unpack and re-assemble items in accordance with a pre-defined plan. This is one of the most important aspects of any business move as it is essential to getting you up and running as quickly and as efficiently as possible to minimise disruption to your operations.
Specialist IT Relocation Service
If required we will work closely with either your IT team, an IT relocation specialist of your choice or one of our IT relocation preferred suppliers. All IT relocation is carefully co-ordinated and managed by either Richie or David Lane. MiniMoves follows best-practice IT relocation guidelines to ensure vital equipment is relocated safely.
MiniMoves' insurance brokers Basil Fry are specialist removals insurance brokers who have put together a policy for MiniMoves that enables us to offer businesses bespoke cover.
Insurance cover can be arranged in advance of the move and we are more than happy for our clients to speak directly to our brokers to discuss specialist cover if required.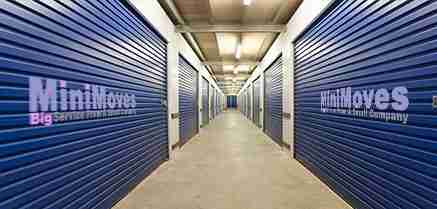 MiniMoves works with various commercial storage providers in Cheltenham, Malvern, Cirencester and Bristol who offer a wide range of storage facilities at flexible rates.
All facilities are fully secured with advanced security systems including password protected entry, CCTV and individually alarmed storage space.
Our Recycling & Disposal Policy
Whenever possible we will dispose of unwanted furniture, equipment and materials in the most environmentally friendly way possible. Items will be firstly offered to schools, charities, community groups, and new small businesses before they are taken to a recycling facility to be broken up.