Tim Shaw's Black Smoke Rising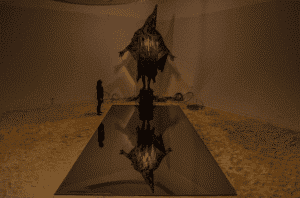 MiniMoves this year has added acclaimed artist and sculptor Tim Shaw to our roster of regular clients. We were first approached by Tim to move 3 of his largest sculptures from his studio in Cornwall as part of his critically acclaimed Black Smoke Rising installation at the MAC Centre Birmingham. The work includes his very impressive and thought provoking piece "Casting A Dark Democracy". The piece stands at over 5 meters tall and is constructed from, amongst other things, steel rods and barbed wire.
As when we deal with all of our artist work, Black Smoke Rising took a great deal of careful planning both with the transportation and the installation of the work to the first floor of the MAC Centre. MiniMoves were very lucky to have been met by the exhibition coordinator Silas and his team, who did a fantastic job assisting us with our work.
The exhibition lasted for a month after which the pieces were separated and taken to different galleries by MiniMoves to be displayed individually and eventually brought back together at Aberystwyth University. MiniMoves will soon be undertaking the de-install and transportation of the pieces back to Falmouth.
Tim Shaw was elected to be a Royal Academician in 2013. For more details of his work go to www.timshawsculptor.com.
"IT'S GREAT TO HAVE SOMEONE EXPERIENCE AND FAMILLIER WITH THE WORK WHEN MOVING FROM PLACE TO PLACE" Tim Shaw RA